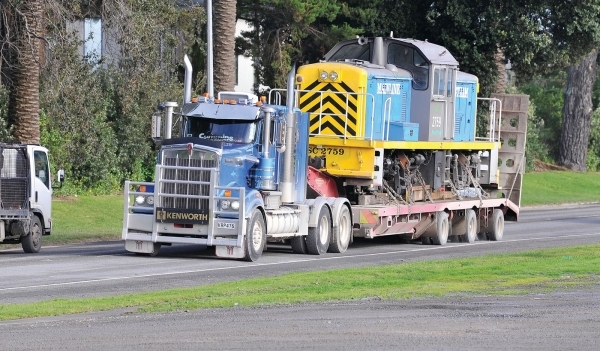 The group behind one of Gisborne's favourite visitor attractions are so confident about the region's tourism future they have bought a locomotive.
The ex-New Zealand Railways electric-diesel locomotive was transported by truck from Wellington and arrived in Gisborne yesterday.
It will be the back-up for GCVR's popular Wa165 steam engine if it ever breaks down.
GCVR president Geoff Joyce described the purchase as "a leap of faith" and "the belief" from their 42 financial members in the viability of Wa165 and the importance of keeping the train "ready, willing and able".
Mr Joyce said the locomotive was "a shade over 40 years old" so it qualified as "vintage".
The purchase was made possible by the combination of an unanticipated bequest and generous donations from Gisborne City Vintage Rail's own members, who range from workshop volunteers to those who maintain Wa165 to the staff who run its outings.
"While those funds would otherwise have been used for upcoming required bridge maintenance, the acquisition of this additional engine was an opportunity that could not be passed by as it futureproofs the train's continued operational availability," said Mr Joyce.
As well as a back-up role, the locomotive will also be the main engine when Wa165 eventually needs a boiler test, which will put it out of commission for up to 18 months.
"That will be a monumental task for the 'boys in the shed', but they will get it done, somehow."
Mr Joyce stressed "a very clear" message as to the future of GCVR and Wa 165's role in the district.
"We are here, we are viable, we will never give up. Our engine has spent over half its commercial working life in Tairawhiti, it belongs here and it's not going to leave.
GCVR encouraged everyone to use it
. . . "promote it for your business Christmas functions, family and group outings, special events, conferences being held in Gisborne, school trips," said Mr Joyce.
"The train crew will willingly get themselves out of bed and down to the railway yard at 2am to fire up the engine, have steam up, and assemble and prepare the train for a 9am start."
Trust Tairawhiti tourism general manager Adam Hughes said Wa165 held an important place within the tourism industry.
He described it as "a special and unique asset to our region and industry and a fabulous gateway for deeper connections to the people and places of our region.
"All the time and energy that has been poured into the venture by past and present volunteers is not to be underestimated and should rightly be greatly commended.
"There is so much unrealised potential for Wa165 to develop more tourism experience product alongside the rest of our region's offerings and as such our regional tourism team at Trust Tairawhiti is very supportive of GCVR."