Welcome to the Home of WA165
Welcome to the world of our Wa165 Steam Locomotive. Its home is in Gisborne Te Tairāwhiti, the sunny corner of the North Island where we are first to see the sun of the new day in New Zealand.
Wa165 is the only remaining Wa class steam locomotive. It was built in the Hillside workshops in Dunedin (New Zealand) in 1897.
Our Wa165 was the ideal locomotive for the heavily graded (climbing/descending) railway line between Gisborne and Motuhora where it spent most of its working life.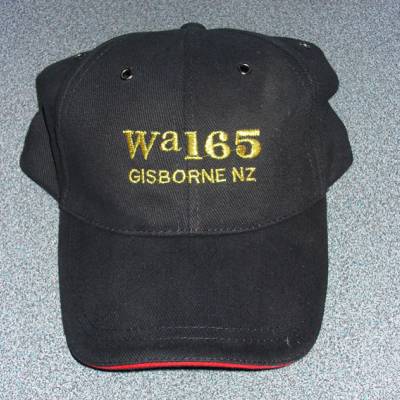 Our Excursions
Wa165 has finished operating its 2020/2021 excursions programme. Go to the Bookings Page for full details of the 2021/2022 programme.
Our excursions currently run between Gisborne and Muriwai. One of our carriages was built in 1936 and has been restored to original condition, complete with the roll-over seating to change the direction of travel. All of the other carriages are fully air conditioned to keep you cool.

The journey encompasses some unique features such as crossing the main Gisborne airport runway (the only train in the Southern Hemisphere to do so, so watch out for aircraft) and also crossing the Waipaoa river bridge (the longest river bridge in the North Island). Also the excursion gives you a unique showcase of the stunning seascape of Poverty Bay with Young Nick's Head in the background, as well as our world famous fertile agriculture landscape.
For the latest information on our excursions, see our booking page or tour calendar.
Special Charters
Wa165 is also available for special charters such as the Chardonnay Express. Read a review of the 2019 Chardonnay Express - A Gisborne Wine Festival Event
For more details on special charters, please contact us.


Membership Sign Up
Sign up to be a Member of our Society and receive our newsletter with the latest and greatest news about what is happening with our train and upcoming rides. $20 per annum or $30 per family and receive the newsletter free.
Bookings
Tickets can be purchased from the i-Site Gisborne Information Centre in Grey Street.
Boarding the Train
Train leaves from the Gisborne Railway Station. Please arrive 15 minutes before departure time shown.
Contact Us
info@gcvr.org.nz
This website is under construction. Publish to see your most recent changes when navigating menu buttons or links below. Publish does not mean go live. Publish is a "2nd step save" that has more significance once you are live. Once you are finished viewing this under construction page, please close this browser window or tab, and return to the content management system. If you navigate to another page, you will enter the published area, and not see WIP changes. This message, and any under construction banner, will be removed once your website is live.