Booking Info
Our 2023/2024 operating season starts at Labour Weekend (see below).
Tickets can be purchased from the i-Site Gisborne Information Centre in Grey Street, except for special event trips like Steampunk Shenanagans Labour weekend and the Chardonnay Express in May
Please note that half an hour before the designated departure any remaining tickets are sold at the Gisborne Railway Station ticket office where we have EFTPOS, which also is available on the Train.
(At this stage no online booking is available - sorry)
There is plenty of free parking available at the Gisborne Railway Station, which is accessed from Grey Street
Please note that excursions are only to Muriwai as the track to Beach Loop is unuseable due to damage.
If you have a ticket but feel ill on the day of your excursion, please do not come on board. GCVR will change your ticket for another date.
In addition to our steam locomotive Wa165 built in 1897, we also have a vintage diesel-electric locomotive DSC2759 built in 1967. Although we will do our best to use the advertised locomotive to haul our excursions, it may be necessary to change to the other locomotive without any warning. We apologise if this causes you any inconvenience.
Please note also, that during a "closed" fire season, we may have to run the diesel-electric locomotive even if the steam locomotive had previously been scheduled to operate the excursion.  
To see the layout of the seats in our carriages, CLICK HERE.

Timetable
Date
Departure Time
Excursion To
Prices
Scheduled
Locomotive
Notes
2023
 
 
Adult
Child
Family
 
 

Wednesday 27th December

1:00pm

Muriwai

$40
$15
$90



After Christmas & Boxing Day

Thursday 28th December

1:00pm
Muriwai
$40
$15
$90
Tuesday 2nd January 

2024

1:00pm
Muriwai
$40
$15
$90
After New Year

Sunday 3rd  January

1:00
Muriwai
$40
$15
$90

Sunday 28th  January

1:00

Muriwai

$40

$15

$90

Auckland Anniversary weekend

Sunday 4th February

1:00
Muriwai
$40
$15
$90

Waitangi Weekend

Saturday 30th March

1:00
Muriwai
$40
$15
$90

Easter Saturday
The Layout of Seats in our Carriages:
Note that going out to Muriwai, the "A" car is the first carriage in the train, followed by the "B" car, then the "D" car (which is also the Buffet car) then the "C" car.
On the return journey to Gisborne, the locomotive hooks on to the "C" car and pulls the train backwards.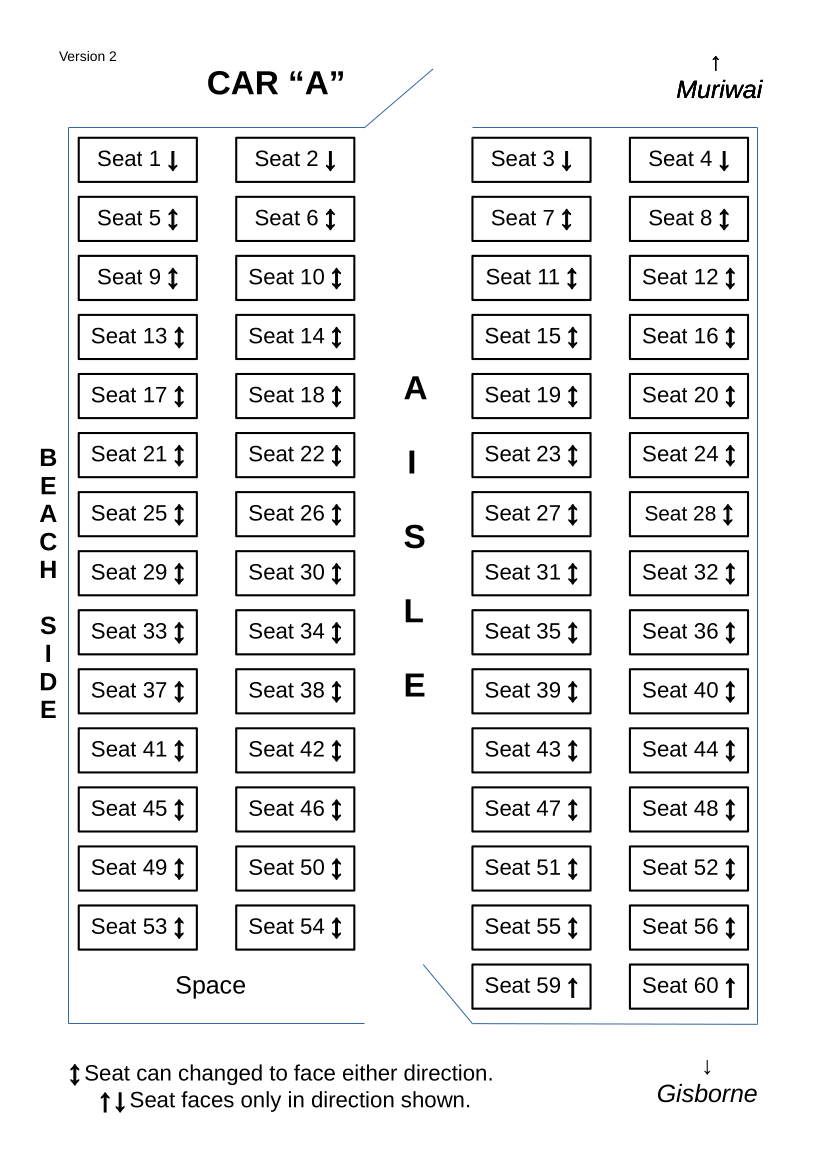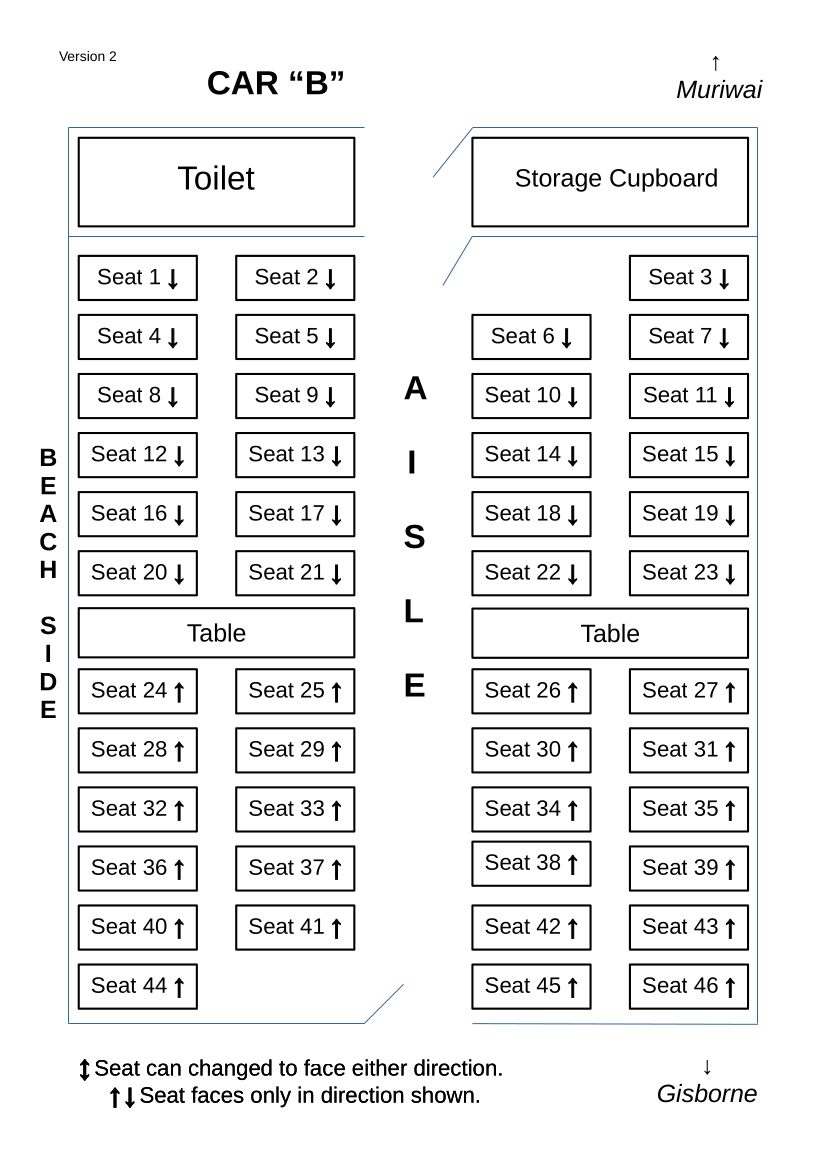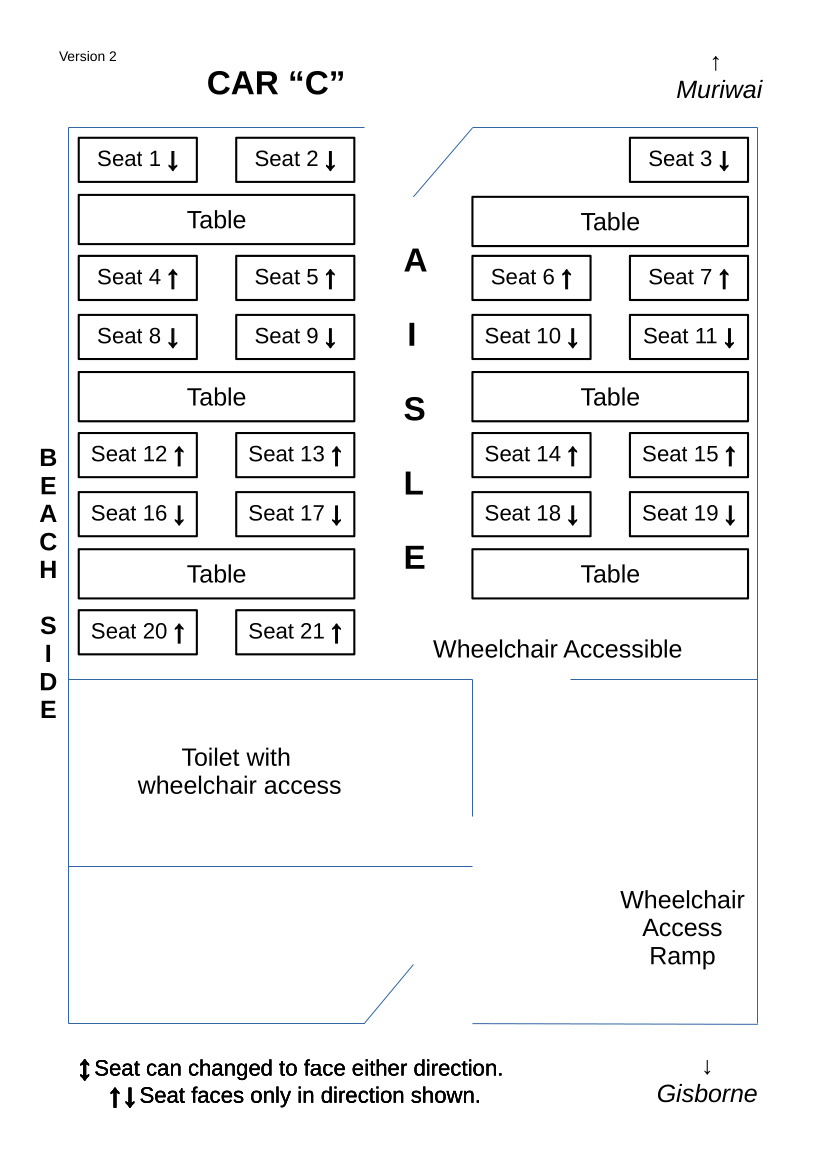 Notes:-
The train is also available for special charters - please contact us if you would like information about chartering the train for your special event.
Children are to be under 15 years of age (Infants sitting on knee no charge)
Family is 2 Adults and 2 Children
Length of Muriwai Excursion Trip - 2 hours approx. plus a 30 - 45 mins picnic / photo break
There is a grass area at Muriwai for a picnic, so bring along your goodies. Hot water is available in the Buffet carriage